October 7, 2021 8:00 pm - 11:00 pm
Putnam Place, 63a Putnam Street, Saratoga Springs, NY 12866
Doors: 7:00pm
Show: 8:00pm
Ages: 18+
Tickets: $35 Seated / $30 Standing
**This show has been canceled due to health issues in the band.  Tickets will be refunded this week.  We apologize for any inconvenience. 
BRAND X are often recognized as musical pioneers —they helped forge an entire musical genre and influenced a broad spectrum of contemporary bands, from Phish to Dream Theatre. Brand X were born on probation in England many years ago, and were immediately heralded for their live shows and for having Phil Collins of Genesis as their Drummer. Their old school contemporaries included bands such as Weather Report, Return To Forever, Mahavishnu Orchestra, Chick Corea, Jaco Pastorius, etc. One difference is that BRAND X brought a uniquely English flavor to their writing and arranging, often times credited to Guitarist/Founder John Goodsall. Mix that with the percolating Bass lines of Percy Jones and John Giblin, and the Jazz infused Keyboards of Robin Lumley and Chris Clark, and you've got Brand X. Legendary music Producer Stephen Clark (Keyboards), Scott Weinberger (Percussion), and Ric Fierabracci (Bass) and Greyson Nekrutman (Drums).
Since reforming in October of 2016, BRAND X have headlined various Music Festivals, including Prog-Stock (twice), Ros-Fest, Progtober-Fest, and "Cruise To The Edge" where their shows called for a command performance — adding a third show. They also headlined the Longs Park Amphitheater Series in 2018, playing to some 6,000 people.
Now for October 2021, BRAND X hit the road with a brand new show with some newly written material, and well as never-played classics that fans have been requesting for years. Founder John Goodsall is still shredding on Guitar, coupled with his slightly offensive tongue-in-cheek barbs.
IMPORTANT DISCLAIMER FROM BAND: If you enjoy watching the show half as much as we do playing it, then we've enjoyed it twice as much as you.
Band Website: www.facebook.com/OfficialBrandX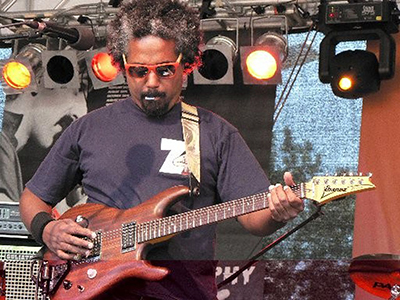 Andre C's one-man performance takes us on an eclectic trip where Dark Side of The Moon like sequencers float above Nine Inch Nail beats, mixed with Zappa-esque Guitars… For a breather, Andre mixes in a few stories from the road from his Zappa alumni band "Project/Object" and years of road work as Steve Howe (YES) and Adrian Belew's (King Crimson) guitar tech. He's become part of the Brand X family.