February 29, 2020 9:00 pm - March 1, 2020 1:00 am
Doors: 8:00pm
Show: 9:00pm
Ages: 18+ (note: there is a $5 surcharge for attendees under 21)
Tickets: $12 Advance / $15 Day of Show
** Click Here to Purchase Tickets **
A year and a half after their debut performance at the 2018 Adirondack Independence Music Festival, Back to School Special, featuring Michelangelo Carubba (Turkuaz), Sam Kininger (Lettuce / Soulive) and Beau Sasser (Kung Fu), return for a special performance at Putnam Place.
Drummer Michelangelo Carubba keeps the beat for one of the liveliest and most vibrant bands out there right now, the nine-piece funk machine known as Turkuaz. Taking to the stage in head to toe green, Michelangelo not only brings enthusiasm to the forefront but drips energy throughout their live shows. Having performed at a wide range of venues, from Red Rocks to Phish after-shows to all-star collaborations around the country, Michelangelo continues to widen his musical horizon with various artists during his downtime, all the while keeping the pace with Turkuaz.
A saxophone legend, Berklee alum, and all-around funk genius, Sam Kininger has been in legendary funk/soul groups since the beginning, including, but not limited to Lettuce, Soulive and the Brotherhood of Groove.  He has also performed with the likes of Dave Matthews, Wyclef Jean and DJ Quick.
As a solo artist Sam Kininger has developed a distinctive, organic sound on the saxophone that is strongly expressive. He consistently demonstrates his technical dexterity and rhythmic precision while maintaining an honest and innovative exploration of musical improvisation.
A wizard on the Hammond, Beau Sasser is involved with several projects, including Kung Fu, The Z3, and Beau Sasser's Escape Plan.  His incredible song-writing skills and broad musical background has established him as one of the top keyboardists touring today on the jamband / funk circuits.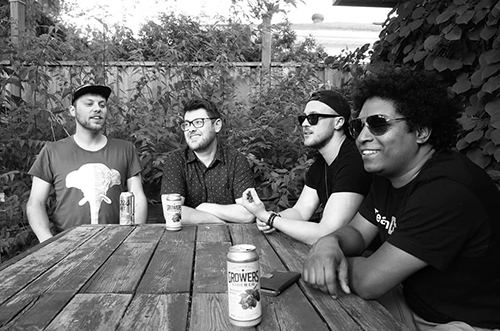 Championing a new and unique sound, After Funk has been bringing their infectiously fun yet thoughtful music to audiences across North America and beyond. The Toronto based funk, rock and soul family have been touring relentlessly for years and have no plans of slowing down anytime soon. Hailed as "the grooviest band from north of the border", After Funk has been steadily on the rise. Over the years, the band has amassed a burgeoning, loyal fanbase, played hundreds of shows to thousands of fans, in multiple countries and released 3 albums. With a multitude of new content on the way in 2020, this year will see After Funk as a force to be reckoned with.
Band Website: www.afterfunk.ca