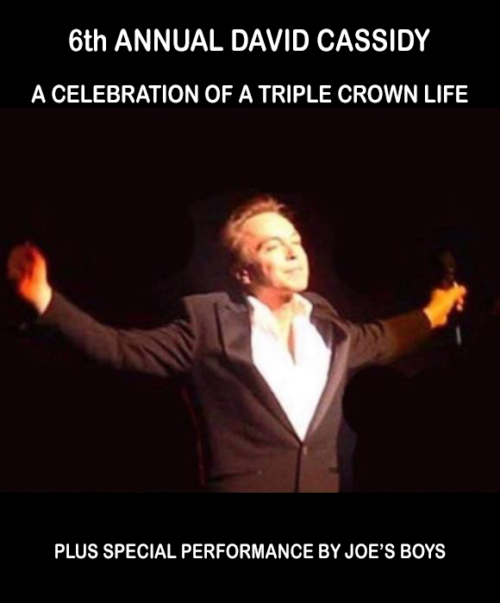 August 15, 2023 4:00 pm - 11:00 pm
Putnam Place, 63a Putnam Street, Saratoga Springs, NY 12866
Doors: 4:00pm
Tickets: $20 at the Door
Come join the David Cassidy Memorial Legacy Group DCMLG for a special celebration of David Cassidy A Triple Crown Life Celebrating and Defending Thoroughbred Horse Racing and Support of Thoroughbred Aftercare.
David Cassidy Memorial Legacy Group (DCMLG), the fundraiser aims to promote racing and to support Thoroughbred aftercare organizations, this year including the Thoroughbred Aftercare Alliance, Thoroughbred Retirement Foundation, Take2 Second Careers Thoroughbred and Columbia Greene Humane Society.
Debuting last year in 2022, the David Cassidy Remember Me Awards will again be included at this year's summer fundraiser. Featured among the award categories are Thoroughbred Aftercare Awards, Compassionate Trainers and Owners Awards, Heart of Saratoga Awards, Animal Welfare and Advocacy Awards, Animal Rescues and Shelters Awards, Amazing Horse Racing Awards and Thoroughbred Horse Racing Community Awards.
The event will kick off with a "mix & mingle" at 4:00 pm , followed by our Celebration of the sport of horse racing from 5:00pm – 8:00pm. The event will feature videos of memorable horse racing moments, guest speakers from the horse community, guest speakers from each of the charities we will be raising money for. We will also pass out grants to recipients of our The David Cassidy Memorial Grant Program and the David Cassidy Remember Me Awards ceremony. Come early at 4pm. The first 100 guests to arrive will get a ticket to win a very special Secretariat prize including two limited edition items. We will celebrate Secretariat's 50th Triple Crown Victory.
We will spotlight a local singer John Trypaluk whose ambition is to one day perform at SPAC Our band for the evening is Joe's Boys with very special guest musician Vance Brescia. There will also be a silent auction to raise money for various charities that David Cassidy held dear to his heart including: Thoroughbred Aftercare Alliance, The Thoroughbred Retirement Foundation, Columbia Greene Humane Society and Take 2 Second Careers Thoroughbred The Auction will feature a number of horse-related memorabilia items. Cathleen Duffy will be our photographer for the event. Saratoga Today historian Joe Raucci Ell speak and share his thoughts about Secretariat.
Joe's Boys will be performing a variety of David Cassidy's solo work, music from the Partridge Family and "good time rock n' pop" songs from the 60's, 70's 80's and beyond.
David Cassidy was more than an extremely talented vocalist, composer, author, producer, director, actor and amazing Broadway/theatre entertainer; he was a philanthropist who gave generously and often times anonymously to various charities. He was an avid horseman who owned, bred and raced Thoroughbreds. He owned and loved various animals. For this reason, The David Cassidy Memorial Legacy Group is committed to furthering his legacy, with charity events such as this one.
Please feel free to reach out to the David Cassidy Memorial Legacy Group at: [email protected]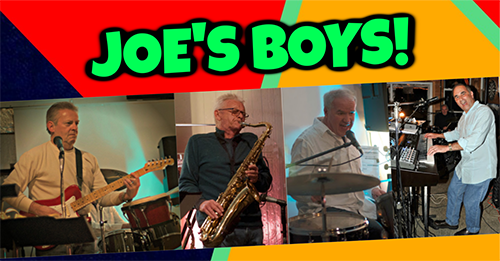 The "good time rock 'n pop" sounds of Joe's Boys have been capturing audiences from Albany to the Adirondacks for well over 20 years! The 'Boys, during the past year or so, have performed numerous times at great Capital District venues such as Schenectady's "Rivers Casino," Saratoga's "Parting Glass," Watervliet's "Rusty Anchor Barge," "NaNola" in Malta, Ravena's "Yanni's Too," "Martel's Grill" on the beautiful grounds of the Town of Colonie Golf Course – and many other terrific venues. And, we have even performed at Proctors Theater – opening up for Herman's Hermits, B.J. Thomas and the Grass Roots!
Through the years, Joe's Boys has been selected to perform at a number of special Capital District community events, including several "Hats Off to Saratoga" celebrations, community park events in nearby Niskayuna, Cohoes, Rensselaer, and Green Island, and, on several occasions, even the huge "Hudson-Mohawk Marathon and Mini Marathon" at the Amphitheatre of Albany's Corning Preserve.
Joe's Boys has even been the headline musical act – twice – at the incredible "Carrot Festival!"
The band's music and crowd-pleasing personality are just made for YOU!