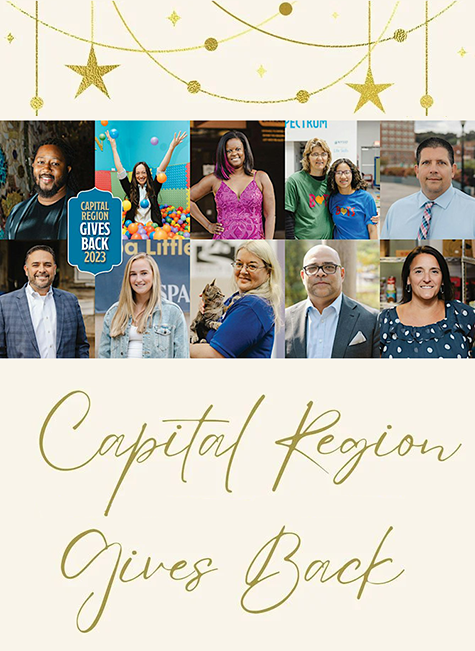 December 6, 2023 6:00 pm - 9:00 pm
Putnam Place, 63a Putnam Street, Saratoga Springs, NY 12866
Doors: 6:00pm
Tickets: $100
** Click Here to Purchase Tickets **
Join us & Channel 13's Mark Mulholland in honoring 10 do-gooders from the Capital Region—and raising money for the charities they represent.
Here's how it works:
1. Decide which honoree and cause to support. (We know, it's hard!) To help, please read their amazing stories using the below links.
2. Choose that charity or nonprofit when buying your tickets.
3. Fifty percent of the cost of your ticket will go directly to that cause. The rest will support local journalism!
4. Show up on December 6 for a feel-good, festive evening of food, drinks and music and to see which honoree raised the most for his or her charity or nonprofit!
Meet the Honorees:
Lisa Audi, Founder, Bring on the Spectrum
Rayn Boncie, Founder and CEO, Things of My Very Own
Humberto Chavez, Chaplain, New York Race Track Chaplaincy
Isabelle Franco, Volunteer Actor, Home Made Theater
Ray Gawlak, Event Partner, Capital Region Giving Tree
Michele Jennings, Executive Director, H.O.P.E.
Johan Matthews, Board President, Community Fathers
Mary Beth McGarrahan, Development Director, Franklin Community Center
Tom Politi, Architect, Veterans Time to Thrive
Takara Wiles, Fundraising Partner, NYOH Community Cancer Foundation
Party Details:
NewsChannel 13's Mark Mulholland will emcee a night of food, drink and music. Every guest will get a welcome drink and, as always, drinks will also be available at Putnam Place's cash bar. Complimentary buffet dinner will be provided. Stay tuned for more details!