February 21, 2019 9:00 pm - 12:30 am
Putnam Place, 63a Putnam Street, Saratoga Springs, NY 12866
Doors: 8:00pm
Show: 9:00pm
Ages: 18+ (note: there is a $5 surcharge for attendees under 21)
Tickets: $15 
* The online presale period for this show has ended.  Tickets will be available at the door.
On his path towards becoming a successful touring musician, Zach Deputy serendipitously landed a solo gig in his early 20s by walking into a bar just after that night's featured artist had bailed. Deputy soon introduced the world to the sound he'd eventually dub "island-infused, drum 'n' bass, gospel-ninja-soul." By 2008 he'd released his debut album Out of the Water and—thanks to his ingenuity in looping—made his name as an unforgettable one-man-band live act. The new music kept flowing, and since then Deputy has released four critically acclaimed full length studio albums. As a special sneak peek into his new music, Zach will sprinkle songs from his upcoming album throughout his sets this fall.
Reflecting on his live shows, Zach says "music to me is about bringing people together from all walks of life and living in the moment with a joyful heart!" Deputy's one man show creates a unique experience straight from the soul every night, raw and uncut with absolutely nothing prerecorded. As a pioneer of looping and synth guitar work well ahead of his time, he's taken the technology to uncharted lands delivering a pocket groove unique to the ears. Zach says, "call me crazy, but I've always believed live music should always be live, but I've also always loved a good tranced out dance party too." With this in mind he tailored his performances to meet his convictions. Combining his family roots Island vibe with his low country southern soul, a pinch of tranced out hippy hop, and a vast amount of talent, Zach's sound emerges in focus.
Concertgoers can look forward to a unique live music experience. Zach plays a different set every night as an ultimate expression of living in the moment, with the hopes of opening windows to people's souls to remind them of how good it feels to be alive.
Website: www.zachdeputy.com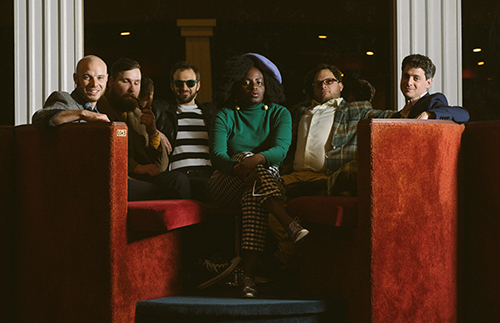 Since 2007, the New York six-piece The Big Takeover has been fulfilling the mission implied in their name: packing clubs in the city and upstate and building their brand and reputation on the road and in the studio. A far cry from the pop-punk of American ska, The Big Takeover take their cues from Desmond Dekker and the first wave of Jamaican pop music as well as from the soulful energy and sophistication of Motown.
At the center of this tight, grooving ensemble is the live-wire singing and deceptively subtle songwriting of the Jamaican-born NeeNee Rushie, a powerhouse performer who makes the audience feel like accomplices more than spectators. Traditional and experimental, The Big Takeover's global blend reveals deep fluency in reggae and world music, hints of soul, and a pop classicism that is their own thing entirely.
In New York's musically hopping Mid-Hudson Valley, they are only the band around that is welcomed and honored at all the major national-circuit rooms: the indie/experimental haven of BSP in Kingston, the jazz and blues gem that is the Falcon in Marlboro, the classic rock mecca of the Bearsville Theater in Woodstock. The Big Takeover packs them all. On the road, the band has played over 500 shows, sharing stages with The Original Wailers, Jefferson Starship, Eek-a-Mouse, the Slackers and more.
The band was selected to participate in a Converse Rubber Tracks Session in Brooklyn NY and toured around the US on their 4th studio record "Silly Girl", in August of 2017. In October 2017, "Silly Girl" was listed on Relix/Jambands.com charts at #13. They are currently working on an upcoming EP in their Beacon NY studio.
Band Website: www.bigtakeoverband.com