November 4, 2018 7:00 pm - 10:00 pm
Putnam Place, 63a Putnam Street, Saratoga Springs, NY 12866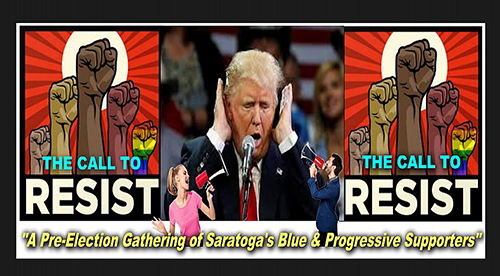 Doors: 7:00pm
Ages: 18+
Tickets: $10
** Click Here to Purchase Tickets **
A Unity Event Before the Big Election
Let's Rally the Troops with a final Blue push!
All of Saratoga's (city and county) blue / liberal / progressive groups and citizens will put aside their minor differences on this night with one unifying purpose: rally the troops ahead of the Tuesday election to put the right people into office — at the local, regional, statewide and national levels.
Event Agenda (preliminary)
* Live Music
* Local Craft Brew Features
* Meet the Candidates
* Featured Speaker
* Info Tables (Org's & Campaigns)
* Mix & Mingle
* The Trump Chicken balloon will be here: get a photo!
* More (we are open to ideas)
Buy in Advance for three reasons (at the Link w/NO service fees):
1. To Guarantee admission in case we hit venue capacity
2. Includes a photo w/ the Trump Chicken balloon ($5 otherwise)
3. Everyone who purchases a ticket in advance will be entered for a chance to WIN 4 TICKETS TO SEE THE DISCO BISCUITS at The Palace Theatre in Ablany on November 23!  Each advance ticket purchase = 1 entry to win.
NOTE:
Admission fees go towards the costs of the event (venue fees, entertainment, etc). Excess funds (if any) will be donated to various local campaigns).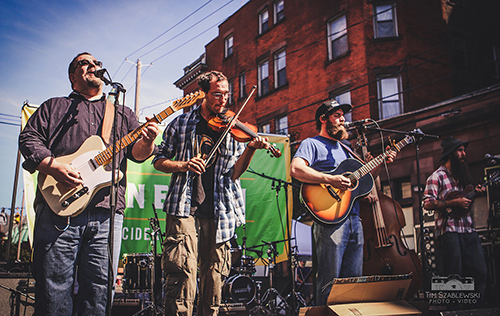 Formed in early 2011 by original members Zack Hay (Guitar & Vocals), Colin Hunt (Bass), and Mark Retajczyk (Guitar & Vocals), The North & South Dakotas set out crafting a sound that paid homage to the spirit of old time american music, mountain folk, and singer-songwriter traditions. Though the band spent many years as a five-piece with drummer Mike Graves, and the past two years as a more traditional bluegrass quartet with utility man Nayt Patenaude (Dobro, Banjo, Mandolin), the Dakotas continue on as an ever-rotating cast of string players from the Upstate NY region. In this more intimate setting, the band continues to write original, genre-sweeping music that makes use of their trademark vocal harmonies and the musical sensibilities of each band member's different background.
Band Website: www.nsdakotas.com