April 12, 2019 9:30 pm - 2:30 am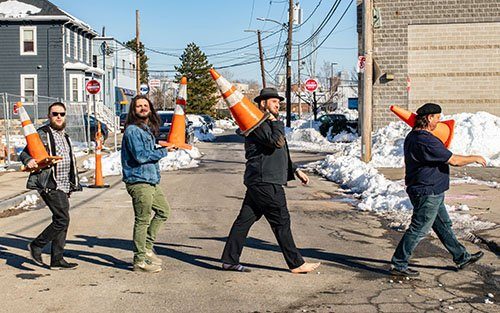 Doors: 8:00pm
Show: 9:30pm
Ages: 18+ (note: there is a $5 surcharge for attendees under 21)
Tickets: $20
** The online presale period for this show has ended.  All remaining tickets will be available at the door.
Come join us for a special evening featuring Pink Talking Fish, plus a set by Annie in the Water.  We will kick off the event at 8pm with an incredible art show showcasing the works of the talented Colette Aimee.  The art show will feature painted models, art installations and hanging art (available for purchase).  Then at 9:30pm, Annie in the Water performs with an all new lineup, followed by 2 sets of Pink Talking Fish and their unique fusion of Pink Floyd, Talking Heads and Phish.  This is going to be an incredible evening, Don't Miss It!
Pink Talking Fish is a Hybrid Tribute Fusion Act that takes the music from three of the world's most beloved bands and creates a special treat for fans of the music.
Pink Floyd, The Talking Heads and Phish are all more than just bands… they are Phenomenons.  Their creations have artistically inspired people and their mind-blowing live performances have brought people together to form a special sense of community around the love for their favorite band.
Although the music from each act is different, Pink Talking Fish has discovered that fusing the material together creates an amazing story.  The epic emotion of Pink Floyd…. The funky, danceable layerings of The Talking Heads…. The multitude of styles, unique compositional structures and pure fun of Phish…. to merge these three into one gives music lovers a special experience.
Pink Talking Fish features Eric Gould on bass, Richard James on keyboards, Zack Burwick on drums and Cal Kehoe on guitar.  This is a band created by musicians who love the music of these acts.  It's purpose is to heighten people's passion for this music by creating something fresh and exciting for fans.  
Discovering connections is part of the fun:  Pink Floyd's "On The Run" seamlessly fitting in the middle of the composition of Phish's "You Enjoy Myself".  Perfectly placing Phish's "Sand" into the groove of The Talking Head's "Slippery People".  Segued collections from all three acts such as Run Like Hell > Making Flippy Floppy > Piper > Run Like Hell or Mike's Song > Have A Cigar > Once In A Lifetime > Weekapaug Groove.  These ideas are the spirit behind Pink Talking Fish.
The story is ever evolving.  The experience is always exciting.  Come join Pink Talking Fish for the ultimate fusion tribute and celebrate the love of this music in unique fashion.
Band Website: www.pinktalkingfish.com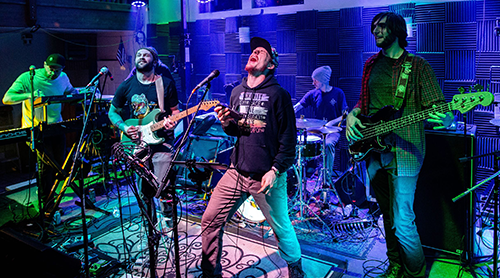 Annie in the Water's music is a groovy combination of Reggae, Funk, Rock, Blues and Jamstyle written with a conscious dose of positive vibes, unique melodies and intelligent lyrics. With the ability to fill an entire night with original music and also render well-known covers into a signature style, fans share extraordinary experiences that can't be seen anywhere else.
After 9 years performing 600+ shows in over 13 states, the original duo of founding members Brad Hester and Michael Lashomb also lead a full band that will shock your soul into euphoria.
The group creates a blend of music and entertainment that is inspired by the audience and the moment; the fan-base grows with every single performance in large part due to the indisputable fact that Annie in the Water will make people dance and feel happier no matter their age. Annie in the Water guarantees to deliver a great performance and intends to create unique experiences at as many locations as possible all over the world. While they also plan to continually expand their musical consciousness, this feels like only the beginning…
Band Website: www.annieinthewater.com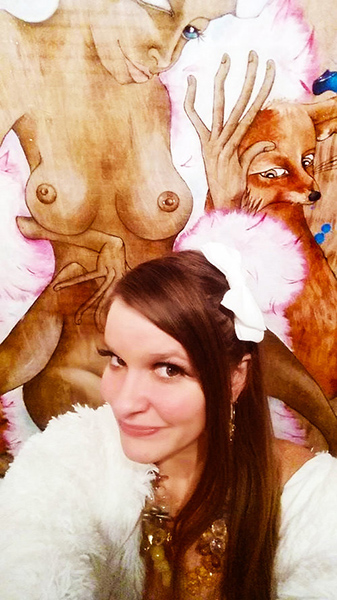 "My artwork comes from a dream world which conveys life like situations that I or others experience as well as a private universe in which my surreal characters come to life.  My work expresses imagery driven by emotion that becomes a static world before your eyes. I contort the bodies of the characters to convey their emotions.  I believe that when we have an emotion we can physically feel it in our bodies, or when one is performing some task that seems impossible the dream like state picture of oneself is contorted and stretched to succeed in the task.  I like to over exaggerate the angles and movement of the body to really make the viewer experience what the creature on the canvas is feeling at that exact moment in time.
For several years now I have been working with the idea of the Harlequin, a magical being that can change itself and the world that surrounds it.  These esoteric Harlequins are sexual, playful and sometimes devious in their thoughts of traveling beyond the boundaries of our world and their own to reach tremendously elastic points of views.
Born into a creative family Colette Aimee was the daughter of an Actor and a Ballerina.  Throughout her upbringing Colette Aimee had all kinds of art flowing in and out of her life in the small town of Kent, NY.  Musicians, Actors, Dancers, Poets, Painters, and Aristocrats were many of the influences that Colette took in to create the artist that she is today.  Colette Aimee found herself going on to art school at SUNY New Paltz in NY receiving her BFA in 2006.  In the Fall of 2013 Colette Aimee became Visual Artist of the Year for RAW Boston. She now shows all over the Country in Gallery shows and events as well as at various Music and Arts Festivals.  She continues to surround herself with the same types of creative people which inspire her to paint the luminous colors of her Surrealistic world.
Website: www.coletteaimee.com