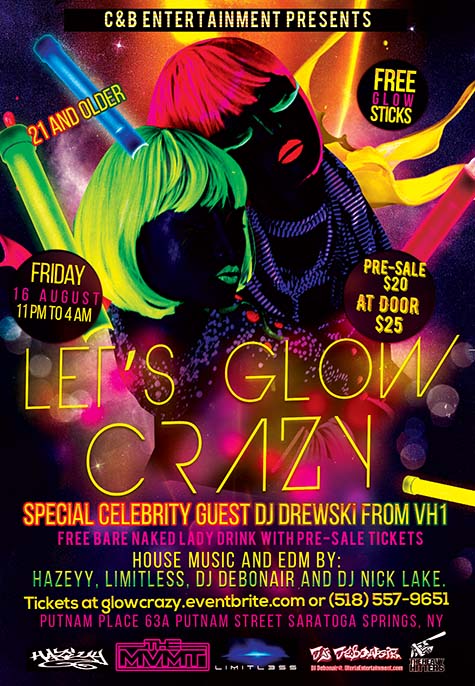 August 16, 2019 11:00 pm - August 17, 2019 3:30 am
Putnam Place, 63a Putnam Street, Saratoga Springs, NY 12866
Doors: 11:00pm (Patio Bar opens at 6:00pm)
Ages: 21+
Tickets: $20 Advance / $25 at Door
** Click Here to Purchase Tickets **
C & B Entertainment presents: Let's Glow Crazy featuring: DJ Drewski (VH1) plus house music and EDM from Hazeyy, Limitless, DJ Debonair, and DJ Nick Lake.  Purchase your ticket in advance and get a Free Bare Naked Lady Drink with your ticket stub!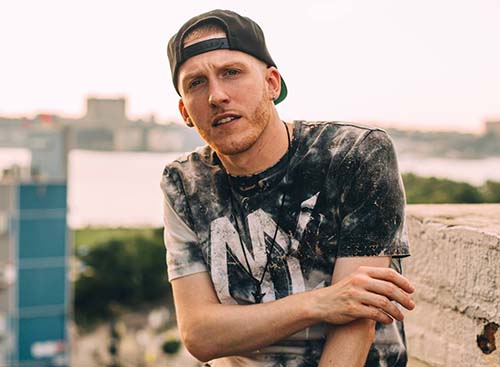 Introducing one of the newest elite members of the phenomenal DJ generation: DJ Drewski. A multi-talented hip-hop connoisseur with more than meets the eye.
DJ Drewski is originally from New Jersey. His entrepreneurship started at a very young age where Drewski nurtured a sincere passion for music. With the help of great mentors Cipha Sounds and Angie Martinez, Drewski earned his way into the DJ rank.
Drewski began producing for Hot 97 over eight years ago. He developed great expertise working as the official producer on The Angie Martinez Show. He improved his skills and undoubtedly continued to create himself within his craft. Meanwhile, Drewski has been instrumental in the successful production of DJ Enuff and Cipha Sounds.
He recently teamed up with Cipha Sounds to put together The MVMT, a dynamic of professional DJs and artists who perform globally. Recently The MVMT released new music, hosted a sold-out showcase concert and released their first snapback to positive acclaim. Notably, Drewski also works as an A&R for performing artist Maino and Jim Jones.
It is with the highest pride that Hot 97 granted DJ Drewski his own show, where he will share his effortless skills with the world. Coupling his loyal supporters with countless artists and producers, let the reign begin.