November 16, 2018 9:30 pm - 1:00 am
Putnam Place, 63a Putnam Street, Saratoga Springs, NY 12866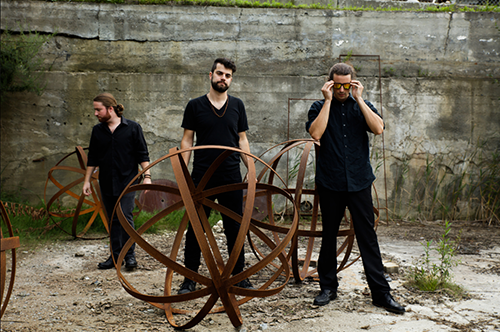 Doors: 8:30pm
Show: 9:30pm
Ages: 18+ (note: there is a $5 surcharge for attendees under 21)
Tickets: $10 Advance / $12 Day of Show
* The online presale period for this show has ended.  All remaining tickets will be available at the door.
lespecial carves their own path in contemporary rock music, veering from hip-hop to metal, prog to house, pensive indie-rock to apocalyptic dub… and yet somehow still present a unified musical vision. The New York and Connecticut based power trio's fearless pursuit of a synthesis of the musical idioms that inspire them has culminated thus far with the release of their second album, cheen, on October 31, 2017. Pole vaulting over traditional genres, cheen is a snapshot of a band flexing their remarkable creative muscles, yet cheen is also a risky album: it asks the listener to suspend a categorical approach and dig into their own eclectic unconsciousness, to adapt a phrase, and appreciate the flow of the record from start to finish, as it moves guided by an unseen plan. If there is an underlying thematic structure, it is one that is anchored—musically and lyrically—by horror flicks, 1980s video games and lespecial's indictment of the current cultural state of affairs. Not overtly political, angry or morose, cheen seems to observe the zeitgeist and respond to it. lespecial's willingness to take this risk of presenting an album full of flavors and feels is a reflection of the respect they have for their fans, present and future: they simply don't underestimate the listener, and that itself is refreshing.
Band Website: www.lespecial.net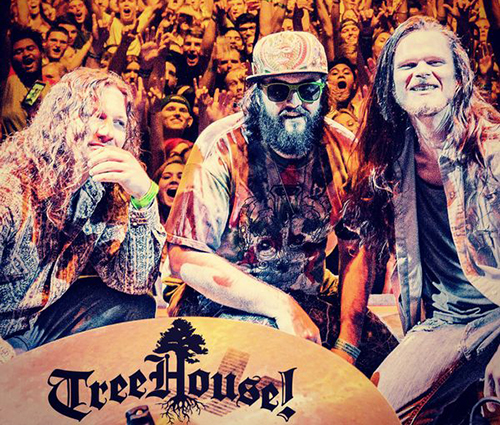 For seven years, TreeHouse! (Myrtle Beach, SC) has spent the majority of their days blazing sprawls of highway and their nights playing an unapologetic enthusiastic blend of reggae jam rock they are known for in venues across the nation.
TreeHouse! songs resonate in your soul with lyrics of rising above adversity, the power of gratitude, and the importance of unity. For every setback, there's a step up waiting for you if you keep your focus. For every day, there's a blessing to count and for every event, we must recognize we are a part of it all. It's this kind of message that makes the most recent studio album, Lifted, their strongest release to date.
In 2010, singer/guitarist Jeremy Anderson and drummer Trey Moody formed the foundation of American Reggae Jam Rock band TreeHouse! With a vision and a dream, they jumped into a van to travel the country and share their good vibes. Along the way they picked up fellow band member Joe Harley on Keyboards/Theramin/Vocals.
Throughout the years, the band has collaborated with other up and coming artists in the genre including Sun-Dried Vibes, Oogee Wawa, Roots of a Rebellion and others, all the while discovering a like minded community across the East coast and beyond.
After teaming up with musical inspirations like Steel Pulse, 311, The Wailers, Dirty Heads, Pepper, Stick Figure and SOJA along their journey and in the spirit of the bands who laid the road before them, these road warriors continue to spread their roots coast to coast.
The TreeHouse! single, "Blessings" was picked by Stephen Marley and Ky-Mani Marley as one of the top 10 songs out of hundreds of contestants in the Marley's Music Uprising, because they felt this song exemplified the spirit of Bob Marley.
"The live show itself heals me every night. I write these songs, to some extent, for my own sake. If I am to sing this song every night, I try to make it beneficial for my own being and implant within it a message that I may need to hear, myself, for reassurance in my journey. Whenever we are feeling overwhelmed with our path, someone comes like a messenger from the universe and feels the need to express how much we've affected their life for the better, just by doing what we do. That's what always keeps us going."
TreeHouse! is currently in the studio working on a new album to be released in 2018.
Band Website: www.treehousetheband.com