December 13, 2018 8:00 pm - 12:00 am
Putnam Place, 63a Putnam Street, Saratoga Springs, NY 21866
Doors: 7:45pm
Show: 8:00pm
Ages: 18+ (note: there is a $5 surcharge for attendees under 21)
Tickets: $15 (General Admission) / $25 (VIP Ticket)
* VIP Tickets will include entry to a pre-show party (6:45pm) with Joey G, Mike Morse and Paranoid Social Club and will have free beer & liquor samples as well as complimentary Finger Foods and first choice of seating.
** The online presale period for this show has ended.  Tickets will be available at the door.
Come join us for another comedy rock night featuring stand-up performances by Joey G and Mike Morse as well as a special after-party featuring a musical performance by Paranoid Social Club.
Saratoga native Joey G will be coming back to town after a 5 year absence.  Joey G has traveled the country performing with JJ Walker, Gallagher, Pauly Shore, Gary Valentine, Michael Winslow, Chris Tucker, The Reverend Bob Levy & Howard Stern's Miserable Men, Ralphie May, and many more.
Mike Morse is a 20 year vet who's performed all over the world and has been a writer for Howard Stern, Jeff Foxworthy, Playboy Magazine, Head Writer for The Comedy Central Roasts of Charlie Sheen, Snoop Dog, Bob Saget, & has toured extensively with the Queen Of Mean Lisa Lampinelli.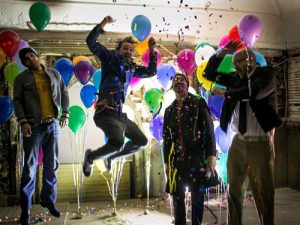 Paranoid Social Club is the bastard brainchild of Dave Gutter and Jon Roods of the Rustic Overtones. Hailing from Portland, ME the band has received international accolades for it's high energy style. Equally inspired by punk, soul, psychedelic rock, and the human psyche; PSC is a musical movement like no other. Picture Jimi Hendrix smashing a keyboard or The Clash backing Bob Dylan at the Newport Folk Festival. The fervor of their incendiary live show has propelled them to that of cult status. Paranoid Social Club has managed to create one of a kind anthems using sarcasm and beauty, two things that rarely coincide.
Paranoid's debut Axis ll, spawned the hit "Wasted" which was featured as the theme for Broken Lizard's cult classic film Beerfest, as well as being the soundtrack to every college party in America. Their follow up double LP Axis lll & l featured the single "Two Girls" and was remixed and released on EMI's ON Entertainment record label. "Two Girls" was used in HBO's series Entourage and Cathouse and birthed a house remix album produced by club dj's ; Invisible Kid, Powder, and Butterface and Clinch. "Two Girls" quickly became PSC's biggest international hit, as it landed them on countless radio stations most requested list.
Band Website: www.paranoidsocialclub.net