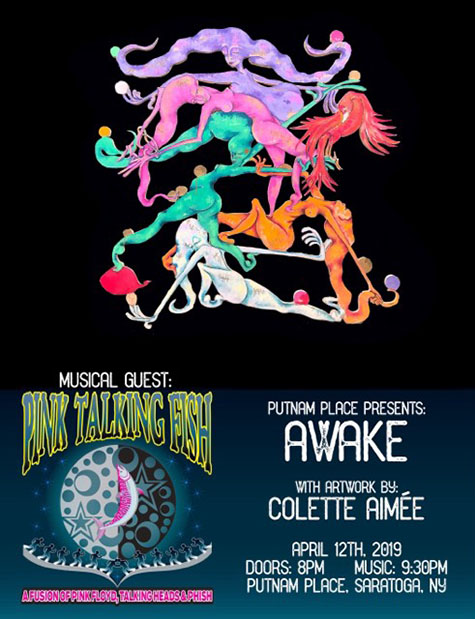 April 12, 2019 8:00 pm - 2:00 am
Putnam Place, 63a Putnam Street, Saratoga Springs, NY 12866
Doors: 8:00pm
Concert: 9:30pm
Ages: 18+ (note: there is a $5 surcharge for attendees under 21)
Tickets: $20 (includes admission to Pink Talking Fish w/ Annie in the Water)
** The online presale period for this show has ended.  All remaining tickets will be available at the door.
Come down early for the Pink Talking Fish / Annie in the Water show for AWAKE: a special art opening featuring the works of Colette Aimee.  The event will feature paintings and prints (available for purchase) by Colette Aimee as well as in incredible art installation and body-painted models.  You $20 ticket includes both admission to AWAKE, as well as the Pink Talking Fish / Annie in the Water show.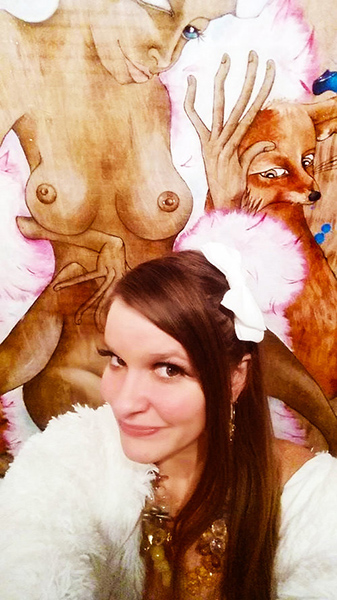 "My artwork comes from a dream world which conveys life like situations that I or others experience as well as a private universe in which my surreal characters come to life.  My work expresses imagery driven by emotion that becomes a static world before your eyes. I contort the bodies of the characters to convey their emotions.  I believe that when we have an emotion we can physically feel it in our bodies, or when one is performing some task that seems impossible the dream like state picture of oneself is contorted and stretched to succeed in the task.  I like to over exaggerate the angles and movement of the body to really make the viewer experience what the creature on the canvas is feeling at that exact moment in time.
For several years now I have been working with the idea of the Harlequin, a magical being that can change itself and the world that surrounds it.  These esoteric Harlequins are sexual, playful and sometimes devious in their thoughts of traveling beyond the boundaries of our world and their own to reach tremendously elastic points of views.
Born into a creative family Colette Aimee was the daughter of an Actor and a Ballerina.  Throughout her upbringing Colette Aimee had all kinds of art flowing in and out of her life in the small town of Kent, NY.  Musicians, Actors, Dancers, Poets, Painters, and Aristocrats were many of the influences that Colette took in to create the artist that she is today.  Colette Aimee found herself going on to art school at SUNY New Paltz in NY receiving her BFA in 2006.  In the Fall of 2013 Colette Aimee became Visual Artist of the Year for RAW Boston. She now shows all over the Country in Gallery shows and events as well as at various Music and Arts Festivals.  She continues to surround herself with the same types of creative people which inspire her to paint the luminous colors of her Surrealistic world.
Website: www.coletteaimee.com